On Saturday 11th May 2019 twelve middle-aged East Devon Dads from West Hill and Aylesbeare, some more middle-aged than others, took on the challenge of running the entire 40-mile length of the East Devon Way in one day.
The route is a mainly off-road trail which winds its way through an area of outstanding natural beauty. Most hikers now tend to head towards the much more publicised South West Coastal Path but the breath-taking beauty of the East Devon rolling hills make this route equally stunning.
In the breezy warmth of the Spring sunshine this was no small undertaking and for many it was 15-20 miles longer than they had ever run before.
Preparation - salted potatoes, water and glycogen
No crazy challenge like this can be met without a mixed commitment to preparation. 
Approaches over how much time and distance training out on roads, trails and hills varied wildly.  Some blamed questionable achilles injuries to do the bare minimum and others took it seriously enough to fly out to Texas to acclimatise.  Some took to running the London Marathon two weeks before, others believed that "pints counted as carbs"!
All-important consideration was given to hydration and nutrition.  We were warned not to underestimate just how much water we would need to take on board, especially given the warm forecast.  Some of us gave some science wisdom/nonsense about glycogen. 
Food would entail copious Tupperware-filled containers of flapjack, energy gels, rice pudding, crisps, sandwiches and all-important salted new potatoes; personally, I still can't work out how I justified gathering around 15,000 calories of food for an event that would only consume a third of that.  An honourable mention goes to bananas where we debated what level of banana consumption would do you harm, it transpires that more than 6.5 is the magic number, according to Google search results.
The key preparation involved our support crew for the day, an amazing dad to one of us from our village, without him none of this would have been possible.
The Event – one foot in front of the other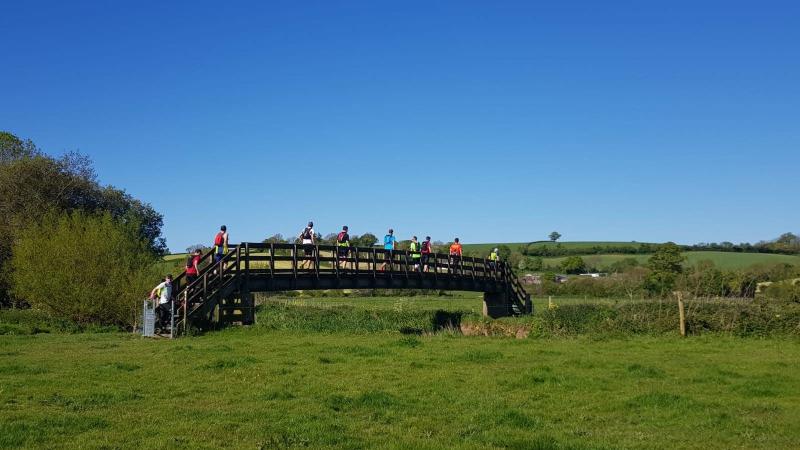 The immediate lead-up was founded on a philosophy of "early to bed, early to rise…" although I don't think any of us got a great deal of sleep that night.  Excitement, nerves and a leap into the unknown for most of us meant that not even a strong morning coffee could facilitate the full-blown morning constitutional necessary for a day like this.  At least we managed to log our activity on Strava.
After duly dipping a ceremonial toe in the water, watches were synchronised and we got underway at 07:45, snaking and chatting our way through Uplyme and down through stunning views across the Axe valley to Musbury where one-man support hero Paul was waiting at our first hydration / fuel stop checkpoint.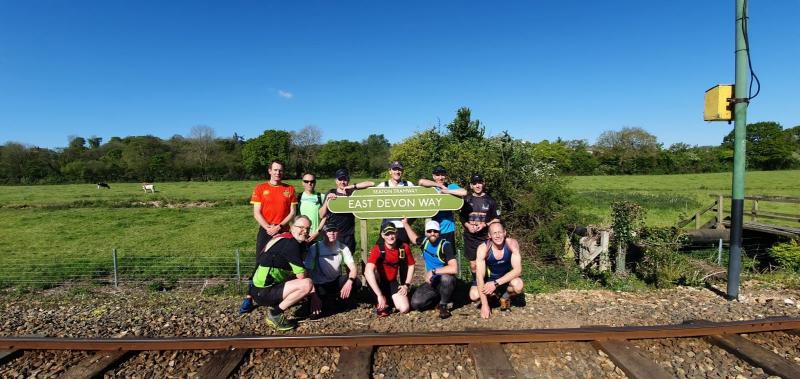 After passing round the top of Colyton, we began a gradual ascent to what would take us to Farway Common, some 800ft above sea level.  Now well beyond a half-marathon distance some of us were feeling it in the legs and were glad of the well-earned lunch stop coming into Sidbury at nearly 22 miles distance.  I was starting to suffer; I had not taken the wise advice about hydration seriously enough and spent the next few miles trying to make up the deficit.  In fact, we all left successive check points with our minds increasingly in a quandary: "Did I eat too much? Did I eat enough? Did I drink too little? Did I drink too much? Did I take in enough salt?."
The steady climb to White Cross on East Hill proved to be one of the toughest of the day, exacerbated by a herd of young bullocks making a bee-line for us through a field half way up, the added adrenaline the catalyst for double-timing it to the top!
As we passed the milestone Marathon mark going through Harpford, we remained stoic if somewhat quieter, except Gav who started to play Chariots of Fire on his phone, as we took on our own personal battles on the climb to Joney's Cross through Benchams.  The heat of the afternoon sun was palpable as we traversed Aylesbeare and Woodbury Commons.
For the last leg down to Lympstone via A La Ronde, tarmac and cars became more apparent, not that we cared: we had a few miles left and it was all downhill.
Arriving in Exmouth, some were obviously disorientated with heatstroke as they mistakenly attempted to wade across part of the estuary with the pub in sight!  We eventually congregated on the beach and dipped another ceremonial toe in the water to mark the end of a remarkable 8 hours.
None of us had expected everyone to finish, but we had all made it. It was a beautiful day in the rolling hills with great views, a few cows, the jaw-dropping sight of a young deer bounding past us through the long grass, and great company.
Special Thanks
Once again, a massive special thanks goes out to our support crew for the day. Paul was a real star, spending the whole day taking pictures, driving around after us to several checkpoints, his car full of water and food.  40 miles in a day is a long way and you can't do this unaided; it just would not have been possible without him.
Final note to the East Devon Way.  Thank you to the team that maintain and mark the route, it really is an outstanding part of the British countryside. Once thing we would all liked to have seen, however, is a clearly marked "Start" and "Finish" marker to the route.  If there was such a statement of start/finish, it wasn't that apparent.  Having said that, the signature "foxglove" markers are nearly always clearly visible along the route.